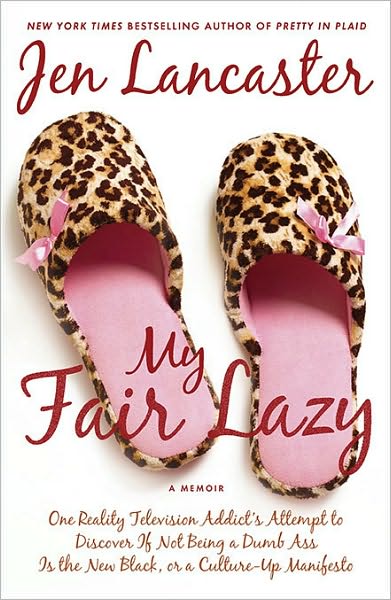 Image from Barnes and Noble.com. Book available in eBookas well if you have a Nook like I do!
If you haven't read "My Fair Lazy" by Jen Lancaster, you really need to. In fact, please add all of her books to your reading list and give me no lip about it. Lately, I have been getting out more. I would like to credit Jen Lancaster (and her "culture up manifesto") but I can't (completely). I've been trying to add to my experiences more and more for a few months now.  I took a work trip and realized that's the most "experience" I have had for years and it was mostly me in an exhibit hall office with a walkie-talkie. By the way, hearing walkie talkie jargon still sends me diving under tables into the fetal position. I never knew what a production annual meetings could be. Also, meetings manager, if you are reading this, please please please make me in charge of the office again! A little PTSD won't deter me from doing it again...
Anyway, turning 26 has flipped some sort of switch in my brain that I need to get to experiencing life because being an expert in Crayola products isn't something people over the age of 9 care about. To my defense, I am enriching my 6 year old's life greatly with my extensive love for all things colorful and furry. Despite this great knowledge, I think people are starting to look at me like, "hey, you're no spring chicken anymore, grow up already". Whereas just last year they were all like, "You're young and have all the time in the world.." It's a bit depressing if not outright confusing that people have pulled a 180 on me in the span of about 8 months. Even my dad is all like, "have you read the classics yet?" I have Angel at work throwing reading lists at me and go figure... Hawkins has read at least 50% of the required reading to be "literary and intellectual" list. Hawkins is so epicurean sometimes. I think it's some recommended reading for all young people, college students, etc... But seriously? My school did Moby Dick, Three Musketeers, and Midsummer's night. That's it. And we all got the Cliffs-notes like any sane high-schooler because it was so much cooler to hang out at Fair Oaks mall.
Now my adult coolness is at stake. No one is going to take me seriously if I have no idea what metaphors they are referencing. And aside from the college set, I find that 26-35 year olds LOVE to reference metaphors. It's annoying. Even though you're an adult and technically there won't be a test on what you just learned, actually there will be a test in the form of people deciding whether you are "friend" material. Discussing your son's ability to dive head first from your sofa without resulting in brain damage doesn't fly most of the time. I already lose massive points for my love of all things Texas. (Really though, football and four pound steaks, how cool is that? Whatever. Stop Hatin'.)
Unlike Jen Lancaster, I have no addiction to reality TV. I wish that was my issue. No, my addiction is to being indifferent. Just watching whatever on TV, ordering take out (hey we still don't have a dishwasher and no dishwasher means no home cookin'), and doing laundry. Throw in the occasional scrap-booking and there you have it. My boring ass life. So, thank you, Jen Lancaster, work, and the people who've rejected my friendship because I am a trucker hat and Marlboro pack short of white trash. I'm actually going to get out and do stuff probably starting with my trip to Atlanta (hey, they have culture and SWEET TEA). Also, I am even thinking of getting tickets toShen Yun. So there. Be my friend already so we can have cocktails at Cafe Salsa and dish. And thank you, work friends, for already being those people I can have a happy hour with.
Read "My Fair Lazy", it really IS good. Even if you are already epicurean. This post, I admit, had far too many commas, wasn't a clear book review or whatever, and may only be interesting to my mom. I apologize... Feel free to add hate comments.
PS: Jen Lancaster's next book (I think) has to do with charity and what not. Which is good because that's something I already have done and enjoyed. So, I look forward to being able to relate to Jen again. Because while MFL was hilarious and fun, I have no idea why anyone would eat stinky cheese.
Stinky Cheese man available at Amazon.com, linked above.